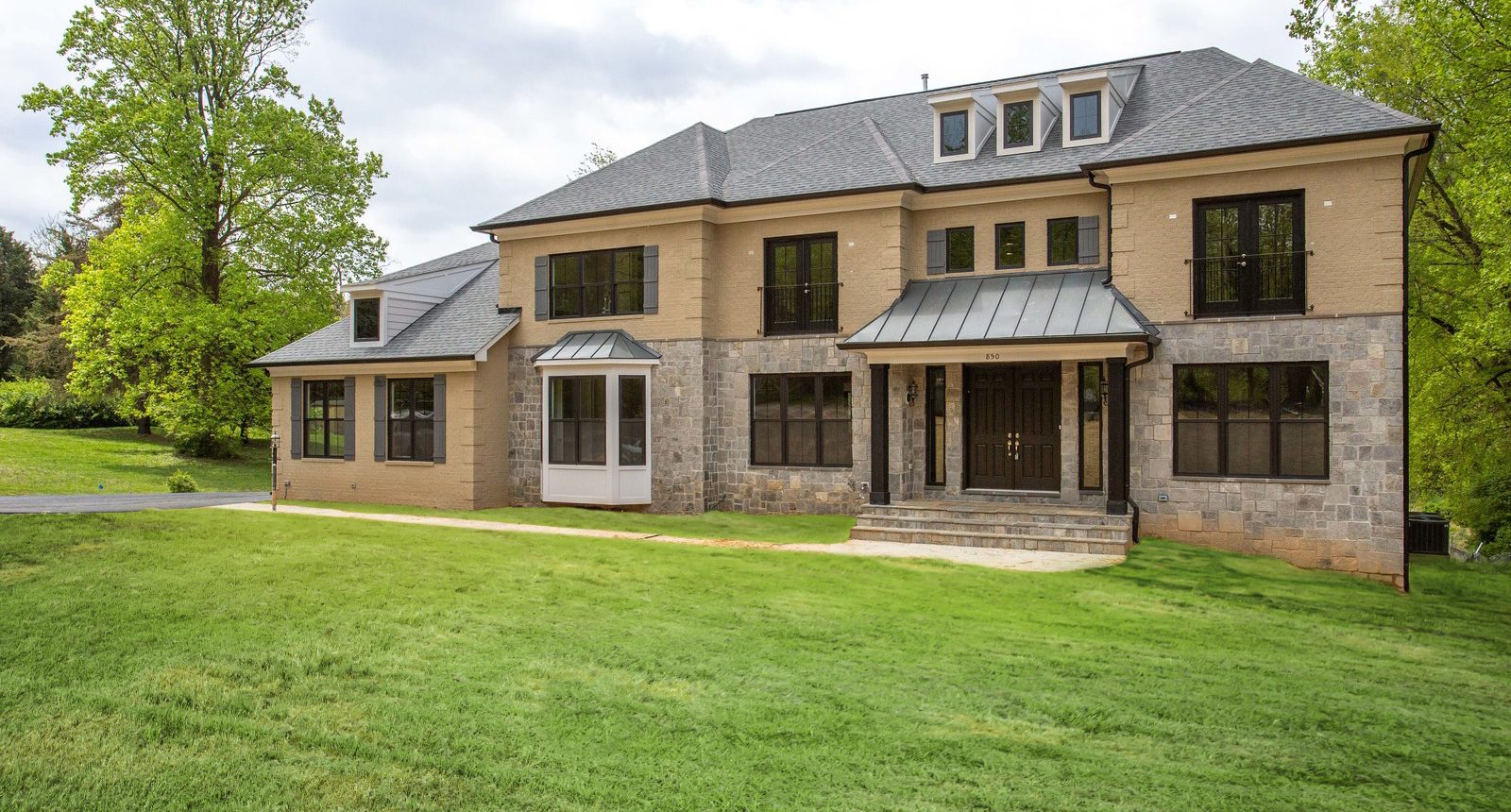 Modern Inspired Grand Williamsburg
May 19, 2021
Published by Suzette Conrad
One of the greatest aspects of working with a semi-custom home builder, is you start with a floor plan and personalize to your family's tastes and live style needs. This might appear to mean we build cookie cutter homes; however nothing could be farther from the truth. Because every family's style and needs are different, no two homes we build are exactly the same. Meaning you create your dream home that looks like a custom build without the price or time of a custom build. This is exactly what one family found when they built their home.
They started with our Grand Williamsburg floorplan from our Estate Series. Homes we've built before using this floorplan usually were built in a tradition or colonial style. However, this family wanted their home to look a more modern, yet still have that timeless look so it would not go out of style in the next few years.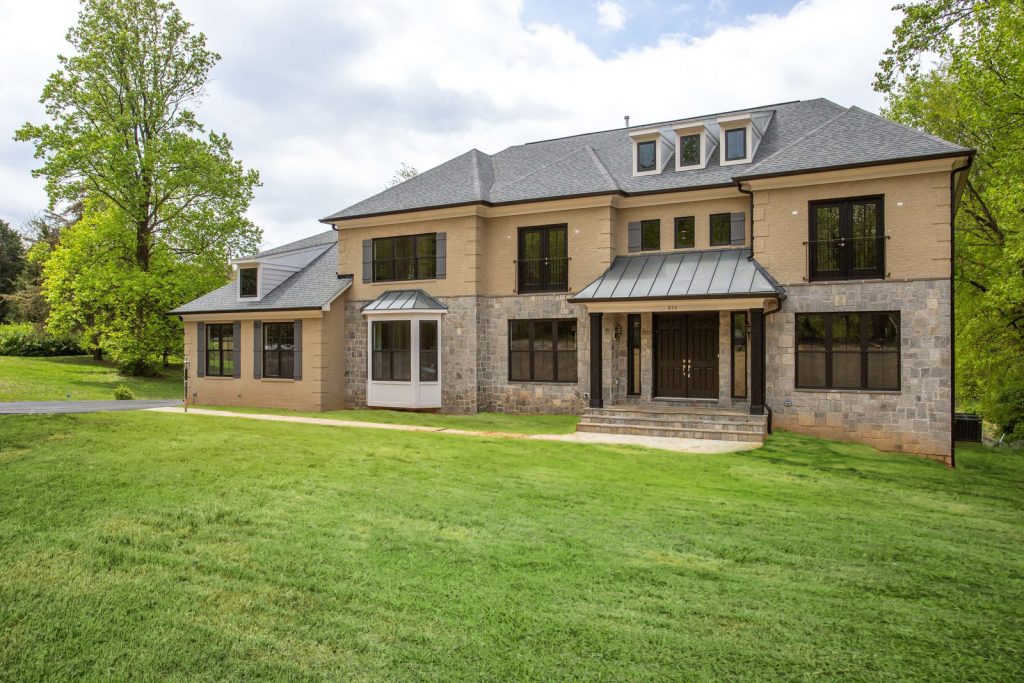 Driving up to this home you will see a lovely modern-inspired exterior. Wooden Oak painted brick and the Coyote Grey Hand Split Ashlar with Grey Mortar water table give it a familiar traditional feel. While the black windows, black gutters, and downspout give it a fresh modern finish.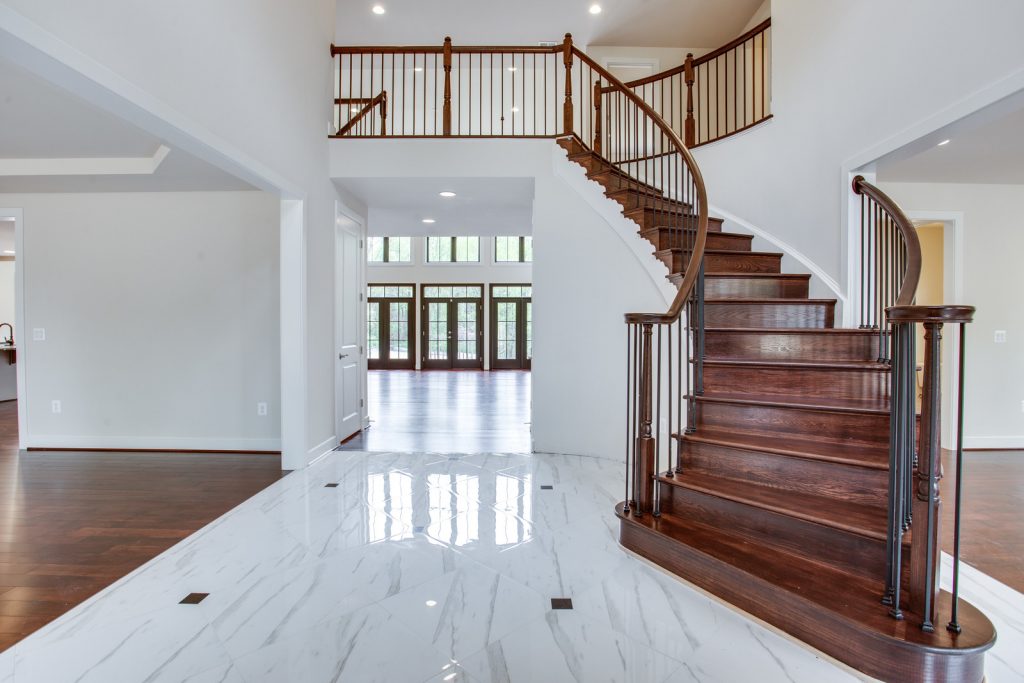 In our Grand Williamsburg floor plan, we offer a single curved staircase and a double curved staircase option. This timeless foyer features a single curved oak stair that was stained to match the hardwood floor. It is beautifully paired with plain bar iron balusters.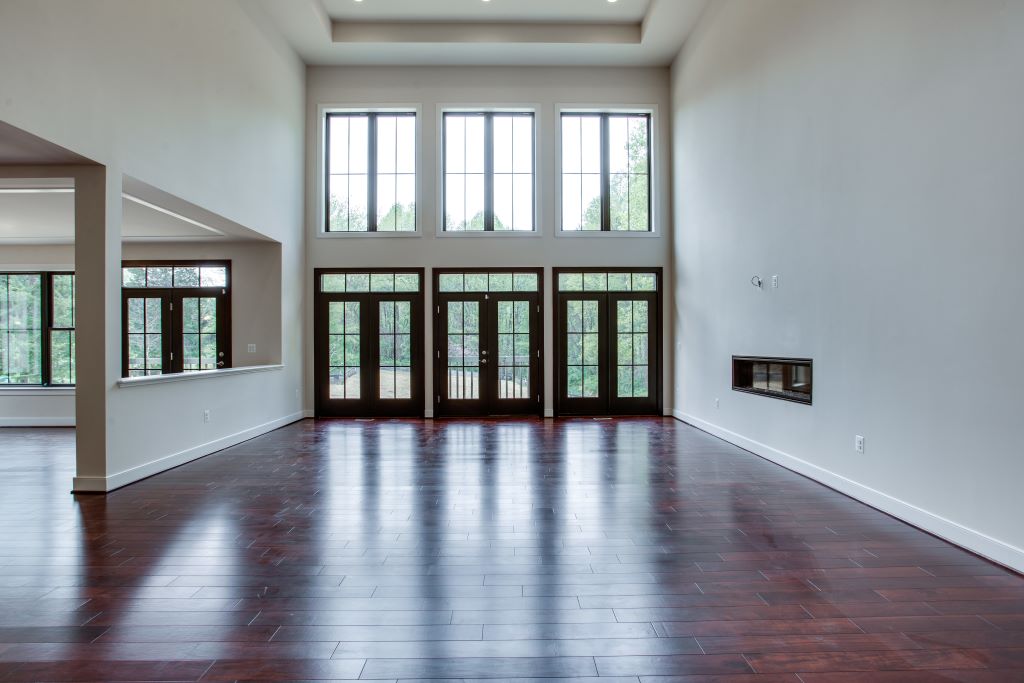 The open floor family room features a bold black door with matching windows on either side. The twenty-foot ceiling and large windows provide ample natural light. To the right of the windows, you will see a linear two-sided fireplace with black granite and clean face front and ebony glass media.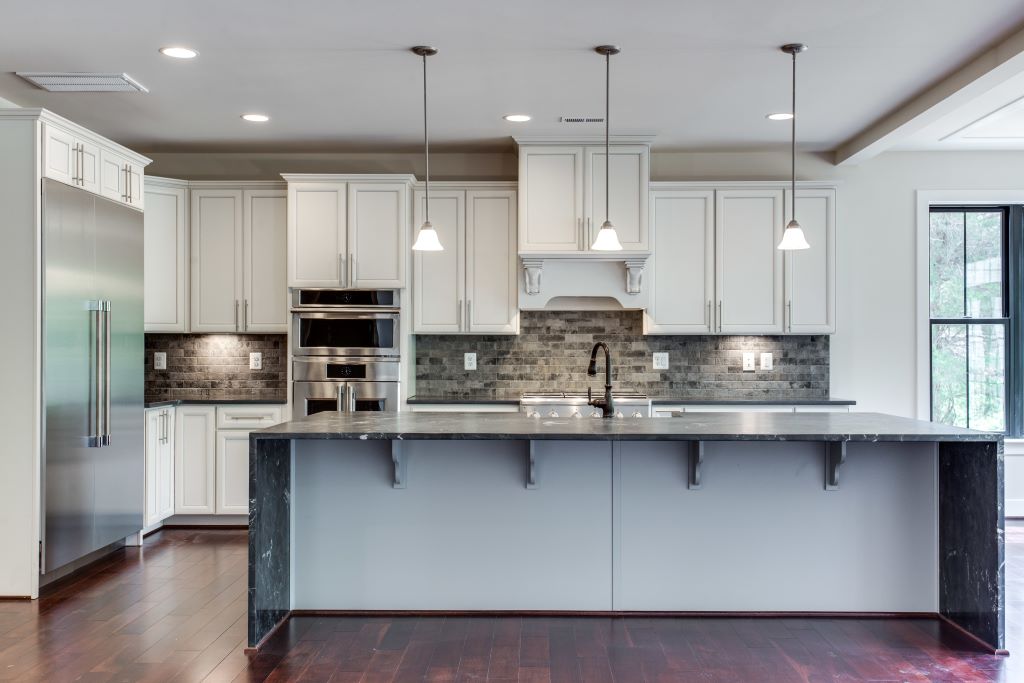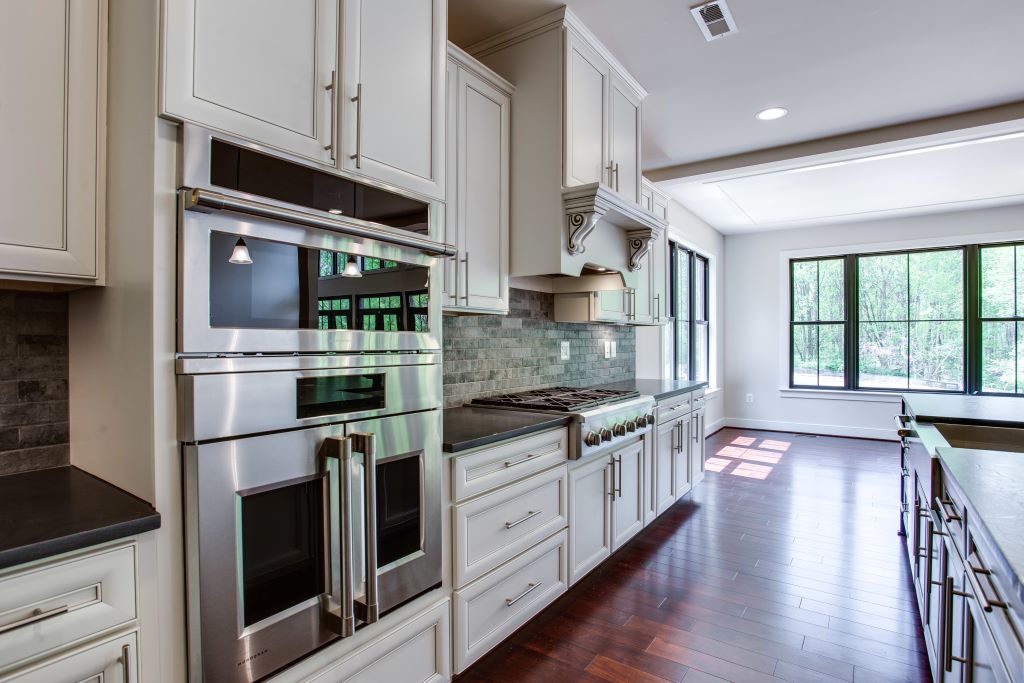 This breathtaking kitchen is a lovely mix of classic and modern styles. The full overlay cabinets and matching hood are Belleview Maple Linen with Pewter Glaze. The Brilliant and Diamond Black Quartzite countertops provide a beautiful contrast to the overall kitchen design. Made to look like brick, the Brickworks Alcove tile backsplash was the talk of this home's open house.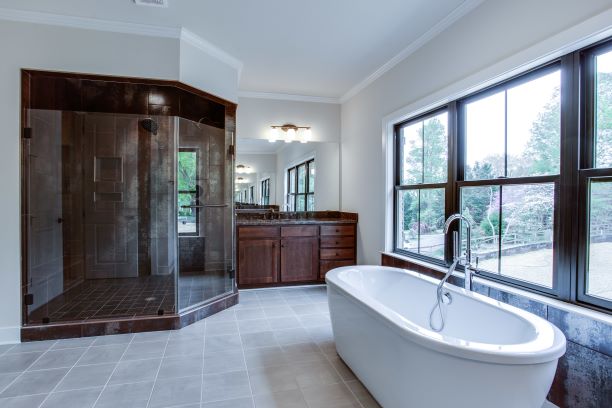 Traveling upstairs to the owner bathroom you'll find a beautiful free-standing tub. The vanities show a standard overlay cabinet in Norwich Maple Autumn Brown and the countertops are Tan Brown Quartz. This exquisite shower matches the tile behind the free-standing tub to keep a consistent look. We love those Antares Jupiter Iron walls. And who can't resist the Skybridge Gray tile floor?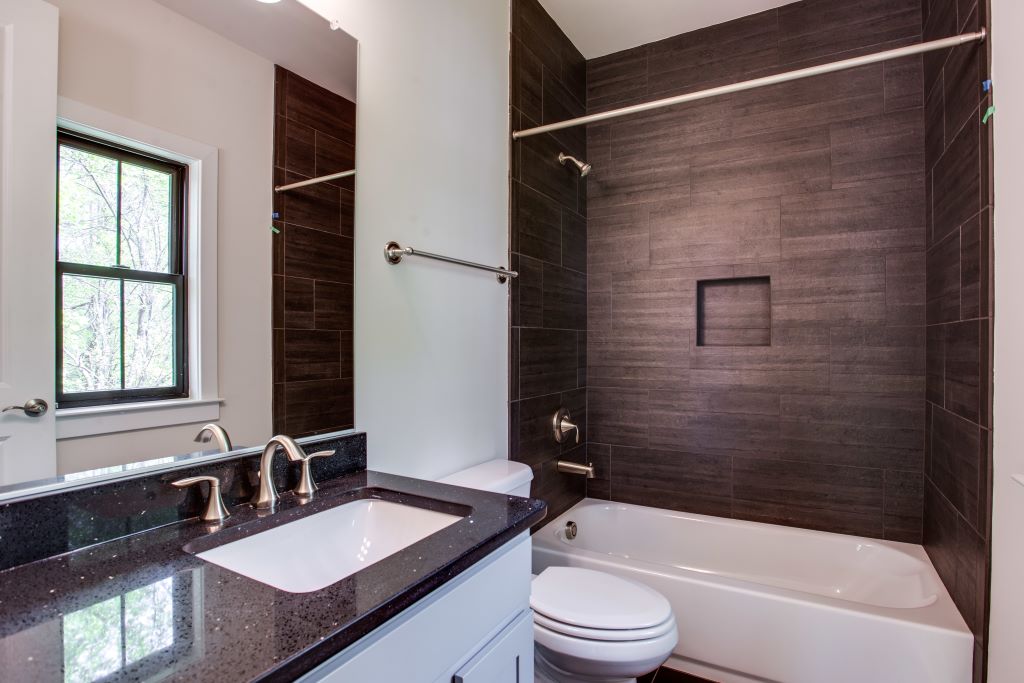 This home is a perfect example of one family taking a floor plan and making it their own. With the help of our team they shared their style and vision, and personalized each room to reflect what they wanted for their family. The result was a unique classic home this family loves.
Categorized in: Uncategorized
This post was written by Suzette Conrad